AstraZeneca Brixham lab closure threatens 71 jobs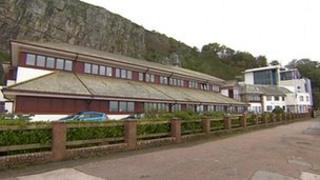 Pharmaceutical giant AstraZeneca has announced plans to shut a laboratory in Devon, putting 71 jobs at risk.
The Anglo-Swedish firm said work at its Brixham laboratory was outside its focus to develop new medicines.
Head of UK operations Tony Broughton said it was "difficult news" for staff, but the company intended to "support them over the coming months".
A spokesman said the site would close by March, subject to consultation, and staff were at "risk of redundancy".
'Blow to employment'
The laboratory assesses the impact of pharmaceuticals and chemicals used by industries on the environment.
Mr Broughton said that "operating an environmental laboratory for the benefit of AstraZeneca and customers is not a core part of our strategy".
He added that the decision to close the site had come "after serious consideration".
Joe Cloutman, secretary of the Brixham Chamber of Commerce, said closure would be "a great shock to all local people and a blow to employment".
The news follows the company's announcement in March that it would be axing 700 jobs in the UK and moving 300 others overseas, closing a site in Cheshire and opening a new research and development unit in Cambridge in the process.
AstraZeneca employs over 6,000 people in the UK and is the second largest drugs company in the UK after GlaxoSmithKline.