Knowle Garage: Woman hailed for 'armed raider' fight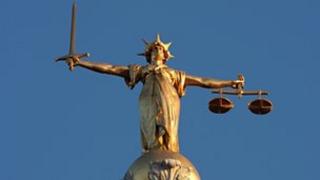 A woman who confronted masked armed raiders when they attacked her garage, showed "astonishing bravery", a court has been told.
Trudi Mian, 65, chased the intruders out of Knowle Garage near Braunton, Devon, last November.
The jury at Exeter Crown Court saw CCTV footage which showed her fighting back against two men.
Lee Prouse, 24, and Jordane Morris, 21, deny robbery. Jamie Latta, 27, has admitted the same charge.
'Terrifying' confrontation
All three were homeless at the time but Mr Prouse and Miss Morris later lived at Stanhope Square, Holsworthy.
The jury was told Mrs Mian refused to be intimidated by the thieves who were holding a meat cleaver and a large kitchen knife.
The CCTV images showed her trying to call police but being stopped by one of the attackers, who hacked at the phone with the cleaver.
The intruders were seen threatening her with knives and forced her to open the till but she then pressed a panic button and picked up a knife which one of them left on the counter as they grabbed money from the cash register.
They left the scene with £60 from the till.
Their masks and outer clothes were found in a nearby alley by a police dog which tracked them from the scene.
The prosecution said Mr Prouse and Latta were the two men who went into the shop at the Knowle Garage, while Miss Morris drove them to and from the scene in her Volkswagen car.
Jonathan Barnes, prosecuting, said: "Stills from the CCTV show the terrifying picture of Mrs Mian being confronted.
"One was shouting to hand over the money but she showed astonishing bravery and tried to make a 999 call which led to the man with the cleaver swinging it close to her and striking the telephone a number of times."
The trial continues.