Abbotskerswell missing boy found under bed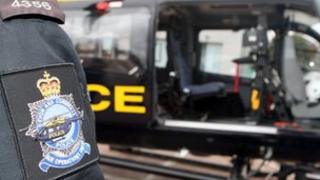 A missing three-year-old boy was found asleep under his bed after a two-hour search involving a police helicopter and more than 200 villagers.
Police found the boy curled up in a pile of clothes under his bed in a second search of the property in Abbotskerswell, Devon.
His mother raised the alarm at 21:15 GMT after going to check on her son who was found just before 23:00 GMT.
She said she was "amazed" at the "overwhelming response".
"I want to say a heartfelt thank you to everyone who turned out," she said.
The force helicopter, police dogs and the Dartmoor Rescue Team were all involved in the search of the village near Newton Abbot.
An appeal on Facebook led to hundreds of villagers joining the search.
'Overwhelming' response
Police said they were "very grateful for the response and offers of support they received from the local community".
A spokesman said: "On arrival, police were advised by the child's mother that she had searched the house and the boy was not inside.
"An initial quick search of the property was conducted by officers. The search was then taken outside due to immediate concerns for the boy's welfare.
"When the child was not located in the local area, officers carried out a thorough search of the home and the boy was found safe and well."
A friend of the family said: "The response from local people was overwhelming.
"There was one chap with a walking stick, and one couple even drove over from Exeter and in the pouring rain."