Dawlish Brook to be dredged to remove silt and prevent flooding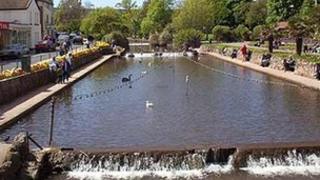 A Devon brook is to be dredged to remove silt and help reduce the chances of future flooding, a council says.
The two-week project to dredge Dawlish Brook, also known as Dawlish Water, would help protect the town centre, Teignbridge Council said.
In August 2012, the brook - which runs through Dawlish town centre - burst its banks when water levels rose by about 2ft (60cm).
Any material removed will be used to restore river banks damaged in 2012.
The council said the brook had 20 weirs and sluices along its length and work was needed because "over the years - and in particular last year's storms - silt and gravel have been washed downstream, creating build-up to an unacceptable level".
If left, Dawlish Lawn in the town centre could be prone to flooding, it added.
The council is to work with the Environment Agency, Devon County Council and Dawlish Town Council for the duration of the project.