Calls for help with farm debts rise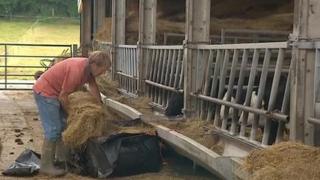 The number of farmers in the south west seeking help for financial hardship is increasing, a charity has said.
The Farming Community Network (FCN) said it was dealing with a rise in cases in Devon and Cornwall.
Sustained wet and cold weather in 2012 is thought to be largely to blame for many farms in financial difficulties.
The FCN, which is dealing with more than 200 cases in Devon alone, said it encouraged farmers to seek help "before a problem becomes a crisis".
'Unsustainable' debt
The FCN said that it had seen an increase in cases in Devon alone from 213 last year to 230 up to August this year.
Of the cases being dealt with this year, 90 were new, according to the charity's figures.
In Cornwall in 2012, it was dealing with 121 cases.
More than half of the problems raised with the charity nationally concerned finance and for some debt was reaching "unsustainable levels", it claimed.
Joanne Jones, a dairy farmer and FCN coordinator in Devon, said some farmers - often on small family-owned farms - felt isolated and were struggling with seemingly "insurmountable" pressures.
Farmer Tom Jeanes said he was forced into selling half his herd after flooding last year rendered his grazing fields "useless".
"I doubt if I'll make any profit this year at all," he told BBC News.
"I'm only a very small farmer - and I'm not the only one... there are others who've lost far more than me."
'Reluctance to help'
The FCN said although 2013 had been drier, farmers were still dealing with financial problems caused by the previous 18 months of bad weather.
"We have had a better year this year," Ms Jones said.
"The harvests have been better, but not enough to get stocks back up to where they need to be for this year and this winter.
"I think some of these issues relating to finances are to do with banking services and maybe some reluctance to help extend overdrafts and to carry on supporting farmers."
Ms Jones said FCN was trying to encourage farmers to seek help.
"Sometimes we feel farmers don't come forward soon enough with their problems," she said.