Paignton's milk bottle pillar turned into cola bottle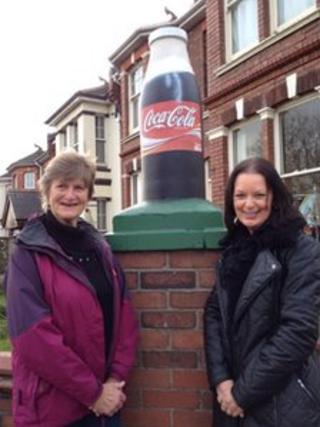 A pillar top in Torbay in the shape of a milk bottle has been vandalised by being redecorated as a cola bottle.
The 1m (3ft) tall replica milk bottle has stood on the corner of Cecil Road in Paignton for more than 100 years.
The wall decoration has been painted brown and given a Coca Cola label.
Staff at the the Kidzade charity, which currently owns the building, said it was believed to have been vandalised on Monday night and that the milk bottle "will return".
The bottle was created when the building was home to the Loncombe Dairy.
It is so prominent that the junction the building is on is nicknamed Milk Bottle Corner. Kidzade also lists its address on its website as The Milk Bottle, Torquay Road.
Charity manager Lisa Brinicombe said: "It's quite a change and lots of people have been asking if it's a marketing ploy."
Charity volunteer Gay Kidd added: "There have been mixed reactions, but they have done a good job."
However, Ms Brinicombe said that "the milk bottle will return".