Two empty Devon council-run care homes could close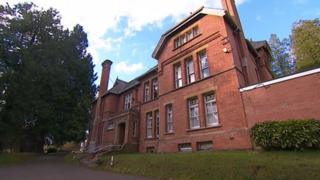 Two empty council-run residential care homes in Devon could close as part of a review of elderly care in the county.
Exebank in Exmouth has been lying empty for the past two years since it was de-registered by the Care Quality Commission (CQC).
For the past five months, 20 care staff have been looking after two residents at Kenwyn in Ashburton, but both have now died.
Devon County Council said no decision had yet been made about the properties.
A review of all its residential care homes is currently under way to help shape future strategy.
The authority said this would also be influenced by three "overriding" pressures: the growing demand for social care; an increasing number of people with complex needs, such as dementia, and the number of people wanting to live independently in their own homes.
Stuart Barker, the council's head of adult social care, said for each person cared for in a council-run home, the private sector could provide care for two people.
"This isn't just about closing homes, but about looking at what we need to do for the future," he told BBC News.
Retraining offered
"I want to be clear - this is not about making changes to the eligibility criteria for people who need the council's support.
"Everyone who needs a residential placement will continue to be supported."
Kenwyn in Ashburton - received an "overall satisfactory" report from the Care Quality Commission (CQC) in July.
But Mr Barker said it was no longer "fit for purpose", with some rooms not big enough for wheelchair access or to use hoists to safely move residents.
"If we're going to look after people with some dignity and respect, we need better rooms than these," he said.
He said the 20 staff would be offered retraining or redeployment where possible.
Fiona Bentley, from Unison, said: "It's not a good time of year to hear your job could be at risk.
"We want to make sure if they can be redeployed, they're given the opportunities for that to happen."