Exeter's Guildhall Shopping Centre £7m redesign revealed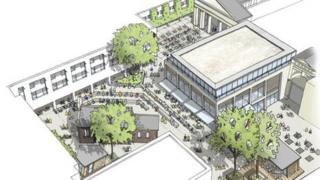 Plans to redesign an Exeter shopping complex have been revealed.
The £7m refurbishment of the Guildhall Shopping Centre will include a layout change, new residential accommodation, improved walkways and toilets.
The owner, Aviva Investors, plans to submit the application in January and, if approved, work will start in 2014 with the revamp expected to be completed by December 2015.
It hopes to attract new retailers and restaurants to the city.
Andrew McNeilly, centre manager, said: "You're looking at a shopping centre which hasn't had any significant investment since it opened in 1976."
The plans include more retail and leisure space and terraced seating to surround the 12th Century St Pancras Church which is in the middle of the shopping centre.
Stakeholders and affected groups are currently being consulted on the changes.