Exmouth College 'outrageous' uniform cost campaign claims victory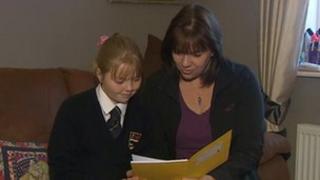 A mother who described the cost of school uniforms at a Devon school as "outrageous" is claiming victory in her campaign for cheaper alternatives.
Three items of Exmouth Community College uniform are only available to buy from the school shop at a cost of more than £50 for larger sizes.
Parent Liz Reynolds says she has been told by school governors that the current supplier's contract is being cut short.
The school is yet to comment.
Ms Reynolds, from Lympstone, paid more than £40 for a jumper, tie and sports shirt for her daughter Gabby, 11.
As well as the cost of the three branded items, Ms Reynolds said the quality was below standard and in some cases lasted just a couple of months.
'Start poking again'
Following her campaign to allow parents to shop around for uniform, the school's governors set up a working party to look into the issue.
"I've now been told that the supplier has been given 12 months' notice and local and other suppliers have been given the opportunity to put in a quote," Ms Reynolds said.
"It is absolutely 100% a victory. It's a shame it has taken so long, but it's excellent news."
The current contract is supposed to last until 2016.
Ms Reynolds, a single mother, said she had the support of over 200 parents.
She said she was also helped by schools minister David Laws saying earlier this year that schools in England will be told to end the practice of using a single uniform supplier.
"To be fair on governors, they did say that it was more to do with the Office of Fair Trading and the government guidelines that have sparked this change, but it all helps," she said.
The school, which had offered to help parents who were struggling with the cost of school uniforms, was contacted by the BBC, but has so far declined to comment.
Ms Reynolds added: "I will be keeping an eye on it and if after 12 months we are no where closer to getting this result then I will have to start poking people again."