Kennford 'garish' pink cottage painted new shade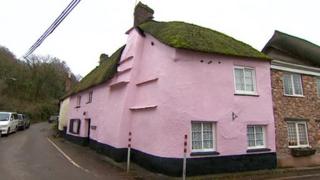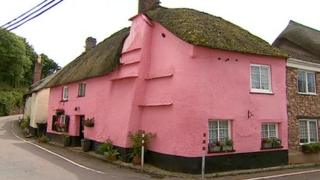 A 17th Century cottage which had been a shade of pink described as "garish" and "particularly vibrant" by a council has been repainted.
Teignbridge District Council told Ann Kennedy to repaint Lantern Cottage after it denied retrospective permission for a shade she had chosen for her home in Kennford, Devon.
It said any repainting of the listed building needed consent.
Ms Kennedy said she hoped the repainting was the "end of the story".
Cottage owner Ms Kennedy had argued Lantern Cottage, a thatched cob building, had historically been pink and she had only returned it to its former state.
She said it had "always been this shade of pink" and the work merely restored the previous hue.
She added that she had sent the council proof of the previous colour.
However, the council's planning committee turned down the retrospective application in July.
Councillors had said the chosen shade was "garish", "particularly vibrant" and "not in keeping with the village", and gave Ms Kennedy three years to repaint the cottage in an agreed colour.
Ms Kennedy said the new shade was the council's choice and that she was "looking at it philosophically".
"This is a moving-on day and hopefully this will be the end of this story."