Hopes for improved Braunton flood defences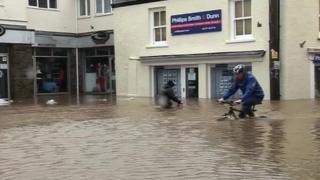 People in a north Devon village which was flooded days before Christmas last year say they hope upgraded flood defences will be effective.
More than 60 properties were flooded in Braunton on 22 December 2012, just six months after defences costing £1.2m were built.
Many shops were closed for months and one owner said he was worried every time he received a weather warning.
A further £100,000 upgrade of the defences has now been completed.
Warning worries
Last December's floods resulted from some of the highest flows ever recorded in the River Caen, and the last time the water was recorded that high was in 1894.
Darrin Pimlott, who owns a card shop in the village, had to deal with more than 3ft (90cm) of water in his store.
He now receives flood alert warnings by phone.
Last month he received another warning and although it came to nothing, he said the memory of a year ago remained strong.
Now he hopes the reworked defences will prevent future problems.
He said: "It will take a while [to get over the flooding].
"Every time it rains really hard, or as soon as you get a phone call with a warning, you wonder what will happen,
"But it [the fear] will go eventually."
The recent £100,000 work included raising about 330ft (100m) of embankment in the nearby Memorial Gardens and sections of the riverside walls.
Local garage owner Ben Byron, who had been involved in meetings about flood defence work, added a £50,000 study was being carried out to find out exactly what happened to water falling in the area.
He said a report based on the study, due to be published in the spring, would be used in the planning of dealing with any future flooding.
The Environment Agency said the upgraded defences would "offer a greater protection" for residents.