Floods strand 200 rail travellers in Taunton for eight hours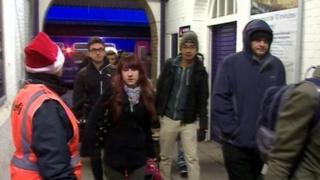 More than 200 rail passengers were stranded for eight hours after the line became blocked during bad weather.
The 20:50 Paddington-to-Plymouth service apparently hit a tree branch before flooding forced it to be terminated in Taunton.
The collision occurred just before 01:00 GMT, when passengers said they heard a "big clunk".
Travellers were eventually taken to Exeter by coach at 07:30 before reaching final destinations by taxi.
Because of wider weather-related disruption in the South West, First Great Western said customers could use tickets on any service.
Steven Rowe, who was travelling on the train, said he was left at Taunton from 00:50 until 07:30, when he was put on a coach to Exeter.
'Grateful to customers'
Mr Rowe said: "We left London at 20:50 and on the way we had a 50mph speed restriction towards Newbury, so that took ages.
"We heard a big clunk and apparently we hit a big tree branch on the line, so that delayed us even further.
"After that we came across flooding on the line and signal problems, so we terminated the train at Taunton at 00:50.
"We were standing there right until 07:30 when they told us we were going on coaches to Exeter."
Dan Paynes, from First Great Western, said: "We kept people warm and fed and watered through the night and we got them on their way this morning.
"Our staff on the trains were superb. We kept passengers as informed as we could.
"Unfortunately, we were hoping the water would subside so we could run the train to its final destination but that wasn't to be.
"Nobody wants to be stuck on a train overnight. We're very grateful to those customers for their patience and understanding."