North Devon District Hospital chemotherapy appeal raises £1.85m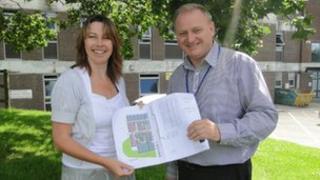 Work will begin on a new chemotherapy unit at a Devon hospital in the new year after an appeal to fund it raised about £1.85m.
The unit at North Devon District Hospital, which will treat people with cancer, will cost £2.2m in total.
The Chemotherapy Appeal will continue to raise the remaining funds while work gets underway.
Fundraising manager Ian Roome said the appeal had received "wonderful support from the people of north Devon".
Staff at the hospital's existing unit said that because it was small, currently two patients often had to being treated in one room at the same time.
Brenda Slee, one of the 5,000 people given chemotherapy every year at the hospital, said everyone was "really desperate for this new unit to get started".
"I've been having treatment for quite a long time [and] staff are having to work in the passageways with all the paperwork because there's just not room for them."
Sharon Bates, from the Northern Devon Healthcare NHS Trust, said a contractor would be "appointed soon and we're hopeful that work will begin early in the new year".
The new unit will have a dedicated drop-off point, reception and waiting area, consulting rooms for haematology and oncology outpatients, two open-plan rooms for chemotherapy and other treatment, and two separate en-suite treatment rooms.
Other features will include pre-treatment rooms, a quiet room, a staff room and a courtyard area.
The Chemotherapy Appeal, which began in February 2011, is the largest the hospital has attempted.