Tavistock 'boy racers' forced out of car park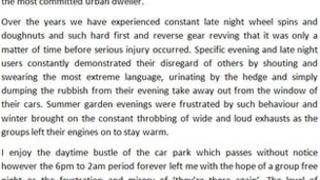 So-called "boy racers" have been forced out of a car park where they were "blighting" residents' lives.
Groups of young drivers were doing wheel spins, using bad language, littering and causing a nuisance, said people in Tavistock, Devon.
West Devon Borough Council and Devon and Cornwall Police installed bollards, a barrier entrance that is closed from 19:00 to 06:00 and a one-way exit.
One resident said the changes had "transformed" his family's life.
The man, who did not want to be named, said that in the past he had to "plead my case for peace with the ignorant and abusive" drivers.
In an open letter to the council, he said: "The barriers are now in and for the first time I look forward to the peaceful enjoyment of my house in the evenings."