Further cob wall collapse on to Cullompton High Street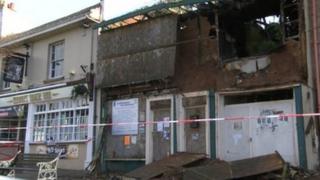 A section of cob wall weighing about a tonne has collapsed on to a pavement from a derelict building on a high street in Devon.
It is the second collapse to hit the former launderette in Cullompton High Street following one on Sunday.
Firefighters and police were called back on Tuesday evening.
A Mid Devon Council surveyor had been asked to carry out safety checks, the fire service said. Materials used in cob include mud, straw and earth.
Police had already cordoned off part of the road after the collapse at the Harlequin Valet site on Sunday evening.
The town council said a fire about five years ago had left the two-storey building a shell without a roof.
Recent wet weather caused more problems in the structure, it added.
Mid Devon Council building control manager Ken McLaren said: "We are actively negotiating with the owner to get the demolition works done, with the threat of possible enforcement if the owner does not do this."