Baby Kimberly Barrett 'possibly fatally injured with weapon'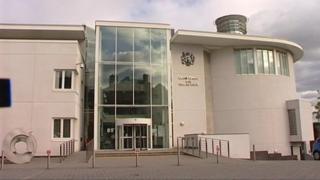 A baby allegedly attacked on Christmas Day was found with head injuries possibly inflicted with a weapon, a court heard.
Kimberly Barrett died in hospital in 2011, four days after she was violently shaken or slammed down by James Hunt, 30, the prosecution has alleged.
A pathologist told Exeter Crown Court her injuries could not be explained through accident or natural causes.
Mr Hunt, of Pellinore Road in Exeter, denies murder.
He has denied causing Kimberly any harm and said the only accident she suffered was a bang on the head against the side of her cot when she suddenly went floppy as he was putting her to bed.
Dr Nathaniel Carey, Home Office consultant pathologist, said this could not explain the injuries which killed her and said her death was caused either by violent shaking or by impact with a hard or even soft object.
He said he found three different areas of bruising on the back of her head, the forehead, and an ear, which suggested non-accidental injuries.
Dr Carey said: "It is likely the child's head struck something but I cannot exclude the use of a weapon.
"The bruises under the scalp were typical of blunt impact. There must have been a significant force in this impact.
"The fall against the bars of the cot which the defendant mentioned to police could not have caused the multiplicity of sub scalp bruises seen here."
Kimberly was taken to the Royal Devon and Exeter Hospital and transferred to the Bristol Children's Hospital, where she died on 29 December 2011.
The trial continues.