Ottery St Mary landslip fear on houses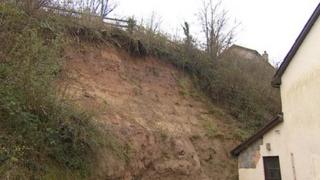 Two Devon families are worried their homes could slip down a 20ft (6m) bank on to six houses below following the recent heavy rain.
The back gardens of the two houses at Millcroft, Ottery St Mary, have started to drop after a landslip a year ago.
Now the owners say heavy rain has caused soil and trees to slip further.
East Devon District Council is seeking legal advice to see what it can do to help support the land, which is owned by a number of different people.
Fred Osbourn, one of the residents, said: "When we had heavy rain 15 months ago, during one night a 30 to 40m (98 to 131ft) crack opened up at the back of both our properties.
"The whole hillside has sunk down and also pushed out as well. It's been horrendous and it gets even worse every time it rains."
Mr Osbourn said it was a worry for everyone living in the area.
Sally Searle, another resident, said: "When it rains I'm lying in bed and I'm worried about every noise I hear.
"We have a bit of an evacuation plan. My husband will grab my daughter and I will grab my son and we'll go."
Mrs Searle said she had already banned her children from playing in the back garden because, she says, "it is so unsafe".
In a statement, the council said: "It has been unclear whether the council is empowered to take the action that Mr Osbourn wants to see.
"Initial legal research failed to clarify the position.
"We have sought further specialist advice to get clear direction and we are hoping to hear from counsel next week."