Devon and Cornwall storm: 'Like living in a washing machine'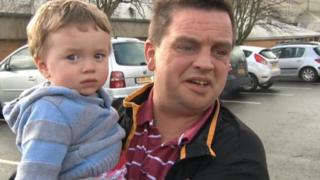 A Devon man said it was "like living in a washing machine" as huge waves smashed a sea wall protecting his home.
Neil Jones and his son Isaac are among about 60 people who were forced to leave their homes in Dawlish.
Mr Jones's house is behind the railway line which was left dangling in the air as waves ate into ballast under the track.
He said: "We have been left with just the clothes on our backs. I never thought that wall would go."
Mr Jones is staying with his sister while other residents have been put up at the local leisure centre.
"It was like living in a washing machine," said Mr Jones as the high tide approached at about 10:20 GMT.
'Railway wall gone'
"Two hours before high tide the waves were coming over," he said, struggling to hold back tears. "It was already scary.
"Then at about 9ish I looked out of the window and it was apparent the railway wall had gone.
"I didn't think much of it. I've always had faith in it, and then a bit more went.
"Then I went out about 10:30 and the railway line was like a roller coaster - the water had got under the line.
"At 11 o'clock were were just told to get out just in case everything went into the sea.
'Worst night ever'
"Who knows what's going to happen now?"
Robert Parker, who was also evacuated, said: "It was the worst night of my life.
"The sea was pounding from about six o'clock onwards and it just got worse and worse.
"The house was moving every time the sea wall was hit. The shock waves were unbelievable.
"Then the police came and said, 'you've got to get out'."
Teignbridge District Council has issued an emergency helpline for those who need accommodation: 01626 215417.
Up to 150ft (46m) of railway track has been destroyed and Dawlish train station has also been damaged, said Network Rail.
It has estimated that it could be at least six weeks before the railway link is restored.
Labour MP for Exeter Ben Bradshaw has called for the government to look at moving part of the line inland.
David Cameron says a meeting of the government's emergency Cobra committee on Wednesday afternoon will talk about the storm damage to the railway line at Dawlish.