South Milton beach could lose coastal track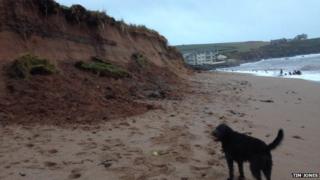 A storm-hit beach could lose its coastal track and have its car park moved under plans being considered by owners the National Trust (NT).
A large section of the dunes at South Milton in Devon were devastated by storms, which led to the track behind them being destroyed.
The trust is now consulting with local people on changes including moving the car park behind the dunes.
The coastal track could also be abandoned to nature.
The dunes at South Milton protect a wetlands wildlife haven for birds and had been strengthened with new vegetation before the new year storms struck.
Wooden access ramps to the beach have been ripped away.
'Situation predicted'
David Ford, of the NT, said that while the trust was "committed" to public access to the beach, "coastal change" was something "we have to accept".
The trust is consulting on the area's future with parish councils and other local people.
In the meantime, the coastal track, used as a short cut by vehicles between South Milton and Hope Cove, remains out of action.
"The action of the storms has been remarkable on many of our sites around the South West," said Mr Ford.
"But the situation at South Milton was predicted in the long term.
"We are now faced with an access track breached.
"In the short term it creates problems for local people, so we are meeting them over whether it's sustainable in the long term.
"We don't know yet what it's going to look like and in 12 months we shall reach a conclusion."