Ex-mayor Nick Bye dropped as Torbay Tory candidate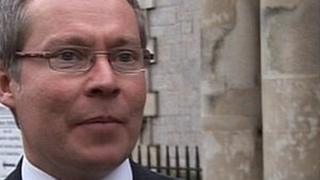 A former mayor of Torbay has been dropped as a candidate for next year's general election after he "washed dirty linen in public", the resort's conservative association has said.
Nick Bye said he had been de-selected for a Paignton ward by the group.
Jean Baker, vice chairman of the association, said Mr Bye "broke the rules and was disciplined" but would not confirm any further details.
Mr Bye who was Torbay's first elected mayor in 2005, disputes the claims.
He said: "I absolutely do not believe I've broken in anyway the rules of the Conservative party.
"I don't want to say anything that would preclude my return to the team."
Mr Bye said he had also been stopped from standing in any ward in Torbay in the elections.
'Disobeyed the rules'
Ms Baker said: "We are campaigning as a team, we are putting forward 'team Torbay', Nick has tried to undermine us.
"Let's just say he was washing dirty linen in public... he disobeyed the rules he had signed."
Mr Bye, who was a candidate for the Clifton with Maidenway ward in Paignton, said: "Some people within the party are unhappy I've contributed various articles and letters to the local newspaper and some of those have been critical of what Mayor Gordon Oliver and the administration have been doing.
"I'm reflecting on what to do next.
"I'm not throwing all my toys out the pram... I'm still a member of the Conservative party and I hope members will reflect and this decision can be reversed."
Michael Jeavons, chair of the Torbay Conservative Association, said: "This is an internal party issue but we wish Nick all the best for the future.
"We are sure he will continue to contribute to life in the Bay and to the party's future.
"We are also very grateful for the continued support he has pledged to Torbay candidate Kevin Foster."