Torquay seafront meter renewal plan 'totally ridiculous'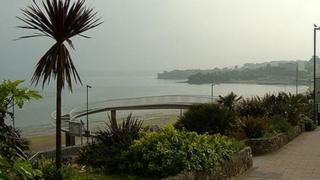 A Devon council's plans to replace damaged parking meters has been described as "totally ridiculous".
Seven parking meters on Torquay's seafront were damaged in the recent storms, Torbay Council confirmed.
Susie Colley, who runs a business in the resort, said the council would spend £14,000 on meters the town did not want.
The council said the replacements had been ordered and temporary machines would be in place next week.
'Robust machines'
Ms Colley said putting the parking meters on the seafront was a "ludicrous idea. The community said as a whole we don't want them".
She said: "Why are they going to spend £14,000 repairing something that will deter visitors. We've had enough bad press. We need good press. Please do not charge us for going on the beach."
In a statement, the council said: "Replacements [for the seven broken parking meters] costing £14,301 have been ordered, but there is the chance that they may not arrive before the Easter holidays.
"Therefore, as a temporary measure, we will be taking some machines from other areas and installing them along the seafront next week."
Councillor Robert Excell, the unitary authority's executive lead for parking, told the BBC: "We don't want them [parking meters] to be a cash cow but, with government cuts, we have to become more self-sufficient.
"It also helps with traffic management."
He added that damage to seven out of 26 meters in the area was "not bad".
He said: "They are robust machines. They endured the full brunt of the sea, especially if you put that into perspective against Dawlish."
The rail line at Dawlish was wrecked on 4 February when storms left the lines suspended in mid air.