World War One soldier's diaries returned to family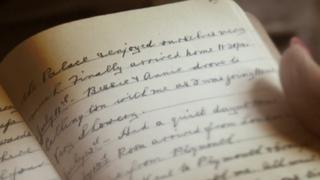 Two diaries written by a soldier during World War One have been returned to the author's family.
Herbert Cecil Algar's memories were written when he was serving in the 1st Royal Devon Yeomanry and cover a period from September 1915 to July 1918.
They were found in an attic in Plymouth and an appeal on BBC Spotlight helped reunite them with his family.
Mr Algar's son, Edwin, said he was "bemused" to have received his father's diaries.
Edwin, who lives in Devonport, said his father told him nothing about his time in the war.
"He became a farmer after the war and lived quite happily until he had an accident which paralysed his left arm," he said.
The family then moved to Plymouth where he became a postman, he added.
The diaries were found by Valerie Harper in a chest in her attic, but it was two years before she realised what they were.
Ms Harper said: "The diaries are just so incredibly well written.
"The hardships he went through were just awful, and I kind of fell in love with him because, with all this awful stuff happening, he managed to find interest in other things."