Blackawton solar farm 'will look like prison camp'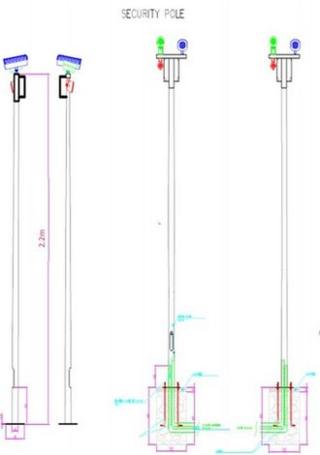 A planned solar farm equipped with 17 security cameras on poles will look like a "prison camp", say objectors.
The solar farm, on 22 acres of farmland near Blackawton, Devon, will be ringed by a 2.4m (8ft) high metal fence and cameras on posts 2.2m (7ft) high.
Saima Ahmad, who lives next to the site, said she feared the CCTV would be able to view residents' movements.
Developer Padero Solar said the cameras were "standard" practice and would be "looking at the ground".
The application at Hemborough Post, which has been given the go-ahead by South Hams District Council, is for 70 solar arrays, each between 150m (492ft) and 200m (656ft) long and 3.3m (11ft) high, capable of producing 3 megawatts (MW) of power.
Ms Ahmad was among more than 40 objectors to the application.
She said there were 12 residents who lived nearby, with some people less than 12m (39ft) away.
"The approval represents a step change in intrusive, aggressive-looking, prison camp-style installations, in very close proximity to residents' homes," she said.
"The constant surveillance of us and our home is unacceptable. We will be seen in our homes, front gardens as well as walking and driving up the lane.
"This is a serious breach of our right for a private life and puts an unacceptable risk of the security of our homes and safety of our children."
Councillors gave it the go-ahead saying the benefits "outweigh concerns" about loss of privacy.
A South Hams District Council spokesman said: "The proposal would have considerable benefit in being a form of development that would be able to generate substantial levels of electricity in a sustainable manner without significant detriment to the landscape or amenities enjoyed by local residents or the wider community including recreational users.
"The benefits of this proposal are considered to outweigh the concerns that have been expressed by third parties.
"For the reasons outlined above the proposed development is considered acceptable and in accordance with the relevant development plan policies and national guidance."
Padero Solar said in its supporting documents that the solar farm would be "visually unobtrusive from close by".
Spokesman John Williams said: "Realistically you need that number of cameras to go round the site - each one can only see about 50m ahead.
"It may be that we can reduce the number or lower them, we don't want to upset anyone locally."