Newton Abbot 'thug' Arthur De Val given restraining order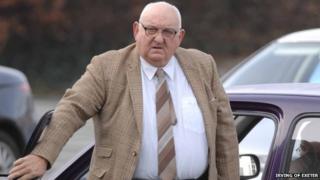 A "liar and thug" who made his neighbours' lives hell has been given a restraining order for twice breaching an anti-social behaviour order.
Arthur De Val, 67, from Newton Abbot, had denied four breaches, but was convicted on two counts.
Plymouth magistrates heard De Val was jailed in 2009 for tormenting families with loud music and Nazi salutes.
The restraining order bans him from contact with 14 neighbours and residents for 18 months.
De Val, a property developer, was also fined £240 plus £600 court costs. He had claimed he was provoked.
The court was told the dispute arose when there was strong local opposition to De Val's plans to build flats at his home.
'Sniggering' provocation
In April 2009, Torquay Magistrates' Court was told De Val had played music "at full blast", jumped up and down on a neighbour's garage roof, threatened to have a resident's dog put down, threw stones and hosed down guests at a barbecue party.
Despite claiming he was the victim of a vendetta, the court convicted him on eight counts of harassment and one of threatening behaviour.
At the time, chairman of the bench Jeff Beer said De Val was a "liar" who had "behaved like a thug".
He was given an indeterminate Asbo and jailed for six months, although he was later released on bail.
Prosecutor Michael French told Plymouth magistrates that De Val called one of his neighbours a "retard" whom everyone laughed at.
He was also accused of using insulting, threatening, racist or intimidating language in a public place.
De Val told magistrates the neighbour in question had been trying to provoke him by "sniggering" when he walked past.
"I asked him if he was a retard. It was a question not a statement," De Val said.