Devon eco home couple vow to fight on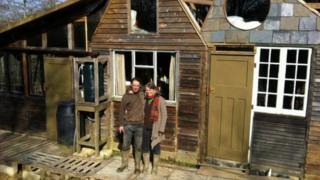 A Devon couple who built a wooden eco-house without planning permission say they are determined to stay living on their land.
Jules Smith and Matt Lepley, from Halwill Junction, said it should be easier for people living green lifestyles to do the same.
Torridge District Council said the building was an "unauthorised development in a rural location".
The matter is currently with the planning inspectorate.
Jules Smith said: "We are living as sustainably as we can. I just think that should be taken into account in the planning system."
The "timber house" has two main rooms downstairs and a bedroom upstairs, built on land owned by the couple.
The project, which took five years, cost £20,000 to build.
Matt Lepley said: "We are living a lifestyle that's highly integrated with nature, with the compost toilet, and our fuel is harvested sustainably from the woodland. We grow a lot of our own food."
Roy Coffen, who lives nearby, said: "Why should they be allowed to live there without planning permission? If everybody chose to live like they are, the country would be in a hell of state."
In a statement Torridge District Council said: "We have initiated enforcement action because Mr Lepley and Ms Smith have carried out an unauthorised development in a rural location.
"Uncontrolled development in the middle of the countryside is an issue all rural councils are concerned about".