£27m health research centre opens in Exeter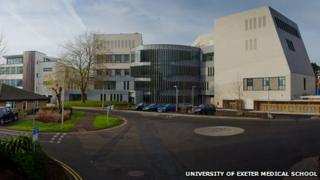 A new £27.5m research centre which will study conditions such as diabetes and obesity has opened in Devon.
The Research, Innovation, Learning and Development (RILD) building in Exeter will be run by the city's medical school and the Royal Devon and Exeter NHS Foundation Trust (RD&E).
The teams hope it will develop Exeter as a centre for excellence in undergraduate and postgraduate clinical education training.
It will also train hospital managers.
One of its studies, called the Exeter 10,000 Project, will collect information and samples from 10,000 volunteers for research into various health care issues, including diabetes.
'Promote excellence'
Professor Andrew Hattersley, the Research and Development Director for the RD&E, said: "This new centre means we can design and carry out studies on patients with diabetes, test samples from them in state-of-the-art scientific analysers and communicate results to our clinical colleagues, all in the same building."
The new centre replaces the previous RD&E postgraduate education centre.
About 90% of the demolished building was recycled, a spokesman said.
Funding came from the Wellcome Trust and the Wolfson Foundation, two charities which seek to promote excellence in science and medicine.
Professor Angela Shore, head of research at the University of Exeter Medical School, said: "Our close partnership with the RD&E means that in many cases, clinicians are directly involved in research and this means our breakthroughs will have direct impact on patients in the South West and across the globe."