Storm-damaged Seaton tramline set to reopen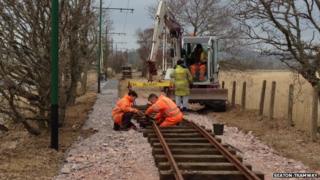 Work has been completed to reinstate rail track ballast which was washed away by recent storms in east Devon.
About half a mile of the track of Seaton tramway, which runs along the River Axe, was badly damaged.
Parts of the line were left hanging in mid-air and poles supporting electric cables fell on sections.
Staff said more than 600 tonnes of fill and ballast had been brought in by road to repair the damage and the full line would reopen on 29 March.
The tram - which runs on three miles of former British Rail track dating back 150 years - attracts some 90,000 visitors each year, taking in Seaton, Colyford and Colyton.
The tracks suffered what managing director Jenny Nunn described as "devastating" damage from overnight storms on 14 February.
She said: "It seems difficult to comprehend that, what the storm took away in a matter of hours, has taken six weeks to put back.
"Even now work will continue after we reopen... to ensure the track can withstand any future incidents like this."
The tramway is not the only train line recently affected by storms in Devon.
Damage to the railway line in Dawlish - which connects Cornwall and most of Devon to the rest of the UK - is still undergoing repairs.
It was hoped it would reopen on 4 April, line owner Network Rail said last week.