24 Commando Engineer Regiment saved from cuts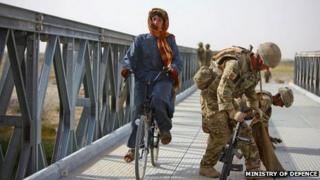 An Army commando regiment will now not be axed but cut in size, the Ministry of Defence has announced.
24 Commando Engineer Regiment, based at Chivenor in Devon, is now to be retained, having previously been threatened with disbandment under MoD plans to cut 20,000 Army posts by 2020.
The reduction of the regiment's 340 personnel is expected to come from those in temporary posts, it said.
The changes are expected to be in place by July 2015 at the latest.
In July 2012, it was announced the regiment could be axed in plans to reduce the size of the army from 102,000 to 82,000 by 2020 personnel.
But armed forces minister Mark Francois told MPs, in a written statement: "At the time of the Army 2020 announcement, the army acknowledged that engagement with the Royal Navy was still ongoing, and this would refine the allocation of army manpower available to support Royal Navy tasks.
"This process is now complete and it has been decided that 24 Commando Engineer Regiment will be retained although the regiment will be reduced in size.
"This change will be achieved by rebalancing army manpower within 3 Commando Brigade and allows for the best use of available resources to deliver the strategic defence and security review and Army 2020 capability."
The regiment was created in 2008 to support Plymouth-based 3 Commando Brigade Royal Marines and has been deployed twice to Afghanistan.
North Devon Liberal Democrat MP Nick Harvey said the government had recognised "how valuable the skills of regiments like 24 Royal Engineers are to the Royal Marines".
"I look forward to seeing a smaller but no less important 24 Engineers Regiment playing an active role at the base once again," he said.