Nuclear submarine dockyard worker injured in fall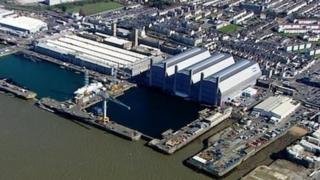 A Plymouth dockyard worker has been injured falling from a ladder while working on a nuclear submarine, yard managers have confirmed.
The employee was taken to hospital after the incident at Devonport Dockyard on Sunday while working on HMS Vengeance, dockyard operator Babcock said.
The company said a full inquiry was under way.
The vessel, designed to carry Trident missiles, is undergoing a refit.
The submarine is one of the UK's four Vanguard Class submarines that the dockyard is refitting in a £5bn deal.
The fall comes six months after a man died working on a submarine at Devonport after being trapped on a cherry-picker vehicle.