Royal Marine drowned in 'freak' snagging accident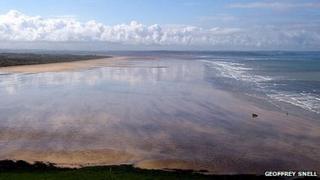 A Royal Marine drowned during a training exercise in a "freak accident" when his boat was hit by a large wave and capsized, an inquest has heard.
Paul Woodland, 32, from Penarth, became trapped between the vessel's engines and his dry suit in rough seas off Saunton Sands, Devon, in October 2012.
The inquest was told the men were prepared, had the right equipment and it was a "tragic accident".
Coroner Dr Elizabeth Earland reached a conclusion of accidental death.
'Like a washing machine'
Four Royal Marines gave evidence and were only identified as soldiers B, C, D and F.
Soldiers B and C said both engines on the inflatable rib became flooded by large breaking waves and stopped working during the exercise.
Soldier C said the waves were "four to five feet high" and a large wave hit them, capsizing the boat and a five man crew.
He said they were 50-75m (160-240ft) from the shore and being under the water "felt like being in a washing machine".
After the craft capsized, soldier B saw Mr Woodland's leg sticking out from the sea and he was "kicking" out at the rear of the boat by the engines.
'Face was blue'
The soldier said Mr Woodland was in the water for about 30 seconds when he grabbed his leg and arm and tried to pull him out but he appeared to be trapped.
He said he "pulled as hard as I could" to free him, while others tried to help.
Soldier B said: "I could see Paul's face was blue."
The inquest, which was held in Barnstaple, heard they were wearing dry suits, their own military clothing, helmet, a smoke flare, a life jacket that was not inflated, and had a knife to free themselves if they got snagged.
Soldier E said: "In my opinion it was a tragic accident. Nothing more could have been done to help Paul, the incident happened so quickly."
'Unsafe practice'
Lt Col Paul Clark, who investigated the incident for the Royal Marines, told the hearing the instructors said the surf conditions on the day were safe.
He said the accident was caused by the "rare" failure of both engines there was a "lack of appropriate instructor supervision, which was an unsafe practice".
Solider F said this was the first time he had lost a "student in troop training" and said losing both engines on the rib was a "freak accident".
He said as a result of the incident instructors now went out in the boats with the crews.
Mr Woodland was carried to a military ambulance at the beach before an air ambulance flew him to the North Devon District Hospital in Barnstaple where he died.