Devon and Cornwall drug growing gear in seagrass scheme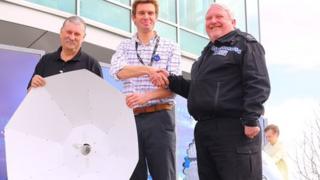 Growing equipment seized by police in raids on cannabis farms is being put to use analysing seagrass at a marine aquarium.
The "grass" to seagrass project at the National Marine Aquarium in Plymouth aims to help conserve native seagrass.
Seagrass is an important habitat for seahorses and both face threats from pollution and coastal development.
Lighting and growing trays were among the equipment donated by Devon and Cornwall Police.
Mark Parry, of the aquarium, said: "This generous donation will enable us to grow our own seagrass for further study, all contributing to our ultimate aim of protecting these threatened species."
Mike Clayton, of Devon and Cornwall Police, said: "We always aim to work closely with our local community, and this project will see the equipment put to very good use to help with marine conservation, rather than having to be disposed of by ourselves."