Maltese ferries to be built in Exeter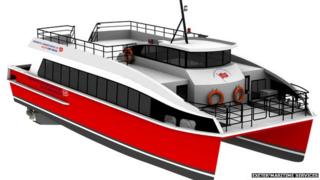 A boatyard in Exeter is almost doubling its workforce after winning a £1.2m contract to build two ferries for use in Malta.
Exeter Maritime Services, founded two years ago, has grown the workforce at its Exeter Canal site to 25 people - 10 more than previously.
The 19-metre vessels will operate as commuter ferries in Malta.
Chris Lorimer, of Exeter Chamber of Commerce, said the contract would benefit other local companies.
Brian Pogson, managing director at Exeter Maritime Services, said the company was "home grown".
"We're really fortunate that we've been able to get a really good skills base in Exeter and all the guys that work for us are delighted with the work," he said.
Contracts such as this are often awarded to Asian companies, said Mike Wake, a maritime broker who helped set up the deal.
"Building this kind of vessel in Vietnam, Hong Kong, China or wherever, you'll find that the cost of supervision and the cost of shipping it back to Europe are prohibitive… or level-playing-field," said Mr Ward.
"So if they build the right quality, deliver on time, and build at the right price, they can compete on the world market."