Devon hospital chief Angela Pedder criticised over tweets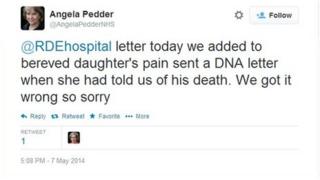 The chief executive of a Devon hospital has been criticised for publishing tweets containing sensitive information about medical errors.
Angela Pedder, of the Royal Devon and Exeter, tweeted about a letter from the hospital that had mistakenly been sent to a dead patient, asking him why he did not attend a hospital appointment.
She also tweeted about a medication mistake made with another patient.
The Patients Association said it was an "irresponsible use of social media".
The hospital said the tweets did not breach its confidentiality policy.
'Potentially unethical tweeting'
On 7 May Ms Pedder tweeted: "@RDEhospital letter today we added to bereved (sic) daughter's pain sent a DNA letter when she had told us of his death. We got it wrong so sorry."
She used the tweet to apologise, acknowledging the woman had told the hospital about her father's death.
Katherine Murphy, chief executive of the Patients Association, said: "Spending time in hospital can be distressing at the best of times and the last thing a patient wants is to have this stress added to by irresponsible and potentially unethical tweeting.
"In addition, we feel that one of the most senior people in a hospital trust should lead by example and this type of behaviour inevitably carries the risk of encouraging other staff to follow suit."
The hospital said Ms Pedder had also written to the individuals concerned to apologise unreservedly for the hospital's errors in their cases.
James Brent, chairman of the hospital trust, said: "The NHS is increasingly and appropriately becoming more open, transparent and candid.
"Like many other chief executives, the trust's chief executive uses Twitter in this spirit to celebrate our successes, share ideas, drive good practice and point out lessons learned when we don't get things right."