UKIP takes seats on Plymouth council as Labour holds city and Exeter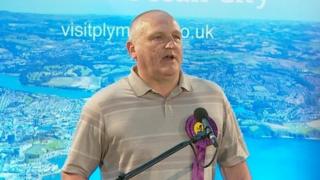 UKIP has its first city councillors in Plymouth after taking three seats from Labour.
The party also came second in many of the city's 19 contested wards, with some very close races.
However, Labour retained control of the 57-seat council, holding 30 seats to the Conservatives' 24 and UKIP's three.
In Exeter, Labour saw an increased majority, from 24 to 27, as 13 seats - nearly a third of the council - were contestable.
UKIP's Plymouth wins included Christopher Storer taking the ward of Ham, John Riley winning Honicknowle and Maddi Bridgeman succeeding in Moor View.
In Plymouth St Budeaux, Labour retained the seat with 1,230 votes, but with UKIP second with 1,219. In Plymstock Radford, UKIP polled 1,472 votes to the Conservatives' 1,521.
The council said it had seen a turnout of 37%. In 2010, the last time this third of seats was contested, the general election boosted turnout to 62%.
In Exeter, Labour saw an increase in votes in its most marginal constituency, Pinhoe, with Megan Williams, 21, increasing her majority from four to 34.
Elsewhere in the city, Labour also retained Cowick, Exwick, Mincinglake, Newton, Priory and Whipton Barton.
The party gained Alphington from the Liberal Democrats and also gained Heavitree ward.
The Conservatives lost one seat in the poll - group leader Yolonda Henson's Polsloe ward - by nearly 130 votes, but held Duryard ward and gained Pennsylvania from the Liberal Democrats.
They now have a total of 10 seats.
The Liberal Democrats are down to three seats after losing two on the council.
UKIP failed to take a seat in Exeter and saw varying success in the wards they stood in. They came second in four wards and third in two others.
In Newtown, they came fourth place behind the Conservatives, Labour and the Greens.
Overall turnout in Exeter was 41%, up from 28.4% the last time this group of seats was fought in September 2010.
People across Devon also voted in the European elections, with results expected to be announced on Sunday.