Cullompton St Regis paper mill boss 'crushed by machine'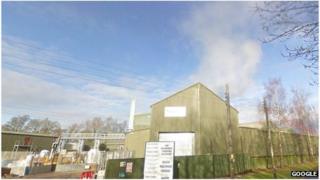 A paper mill boss was "flipped" by a moving belt into machinery that crushed him to death, an inquest heard.
John Stoddard, 41, became stuck in the machinery, which produces large rolls of paper, at the St Regis mill in Cullompton, Devon, in September 2011.
The Exeter inquest heard Mr Stoddard had been running his hands along a belt to check for creases in some paper.
A worker told the hearing that he suddenly "cartwheeled over" and landed on the machinery.
He said Mr Stoddard from Cullompton had been wearing work clothes which were tucked in, to avoid them being caught in machinery.
Pathologist Dr Roderick Simpson said Mr Stoddard suffered multiple injuries which included crush wounds to his chest that were consistent with being trapped in rotating machinery.
The inquest continues.