HMS Tireless makes final homecoming to Plymouth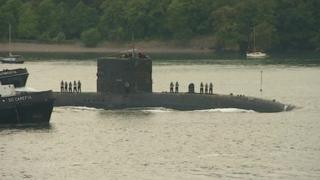 The Royal Navy's oldest nuclear submarine, HMS Tireless, has come home to Devonport for the last time.
The hunter-killer class sub is being decommissioned after 30 years service.
Tireless returned from Australia on Sunday after helping in the search for Malaysian Airlines flight MH370.
Families gathered on the Devonport quayside to welcome their loved ones home for the first time in more than 11 months. Tireless was launched in March 1984.
As the only submarine involved in the search operation for the Malaysian plane, HMS Tireless searched 7,000 sq nautical miles in 16 days.
On a previous mission, the submarine travelled more than 35,000 miles (56,300km) during the 307 days the vessel was away from the UK.