Anglo-Saxon book on public display after 950 years in Exeter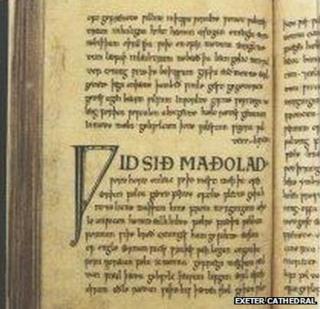 The largest of only four surviving books of Anglo-Saxon poetry has been put on display at Exeter Cathedral.
The Exeter Anthology of Old English Verse will be publicly displayed one afternoon a month this summer.
The book was given to the Cathedral by Exeter's first Bishop Leofric between 1050 and 1072 when it was 100 years old.
Officials say it is the oldest surviving collection of English literature in the world.
The collection of poems and riddles has been kept at Exeter Cathedral for about 950 years.
In addition to such famous longer poems such as The Wanderer and Widsith, it contains 96 riddles.