Hallsands community anger at storm damage repair policy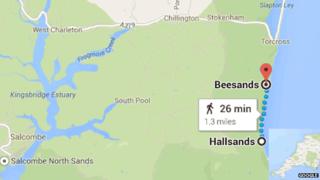 People living in a south Devon hamlet are furious that their coastline will not get new storm defences while a village just over a mile away will.
Ferocious waves and high tides that hit the coast in the February storms ripped apart defences in the communities of Beesands and Hallsands.
But while defences are being rebuilt at Beesands, Hallsands has been designated for no intervention.
Local authorities said the policy had been agreed with residents.
The first phase of work to repair sea defences at Beesands is nearing completion.
The council hopes that the £95,000 cost will be met by the government's Emergency Flood Recovery Fund.
'Bombshell'
But it could not access funding for any work at the smaller community of Hallsands because of its designation as an area of no intervention.
Hallsands villager Jonathan Hale said: "Until the storms we had no idea of the policy of no intervention.
"If there had been a meeting we would have all said no to this policy. When we found out, it was a bombshell."
The residents have paid £20,000 to repair the privately installed rock defences which had been ripped apart.
The Shoreline Management Plan was produced in 2011 by the South Devon and Dorset Coastal Authorities Group which is made up of all the councils in the area.
It considered factors including:
Number of households at risk
Impact on agricultural land and the farming community
Impact on the environment and wildlife
Whether erosion affects local community infrastructure and transport
Graeme Smith, chairman of the group, said it had run 82 public events at which people could give their views on the plan.
"We can't afford to defend everywhere all the time - for them to claim that they haven't been consulted is not true," he said.
"All households were told, the parish council was told and the district council was involved."
Highways authority Devon County Council is repairing a damaged section of the road which serves the hamlet.