Kingsbridge team win national rocket competition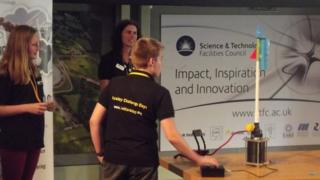 Children from Devon have beaten teams from schools around the UK in an engineering competition to build a rocket.
The team of six, aged 12 and 13, from Kingsbridge Community College won the Faraday Challenge, held in Oxford.
The children had to design and build a moving launching pad which would then launch a compressed-air-powered rocket.
Three teams in the final had been whittled down from a total of more than 2,800 pupils in teams from 230 schools.
The team won £1,000 for their school in the annual event organised by the Institution of Engineering and Technology at the Rutherford Appleton research centre.
'Really proud'
Teams were marked on the design of their launcher and rocket as well as how economically they used the raw materials they were given in a four-hour race against the clock.
Their launch vehicle, equipped with LED warning lights and brakes, sent their rocket more than 4m (13ft) into the air.
Teacher Martin Luckhurst, head of design and technology at the college, said: "I'm really proud of them.
"They worked to their strengths and supported each other really well.
"In fact, the judges said they worked so well they were finishing off each other's sentences.
"They made a real impact when they went up there."
All teams were given a tour of the research centre which specialises in energy, security, healthcare and the environment.