Devon and Cornwall Police 101 service to be reviewed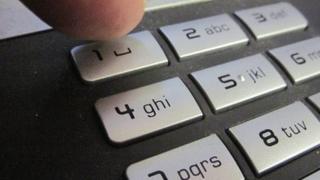 The non-emergency police number 101 is to be reviewed in Devon and Cornwall after complaints about people having to wait too long to have calls answered, a police commissioner says.
Figures obtained by the BBC previously revealed, about 250 callers per month hang up before their calls are answered.
Tony Hogg said the system was failing and he was not satisfied.
Police previously said more than 96% of callers were satisfied with the number.
Speaking to BBC Devon after a debate at the Riviera Centre in Torquay, Mr Hogg said: "We're getting too many people who no longer bother because they feel it's not working.
"To me, the system - not the people - is failing us."
Mr Hogg tests the number regularly, including twice in the last week, with one call saying he would have to wait eight minutes.
Once started, the review would take "three or four months", he said.
Figures obtained by the BBC under the Freedom of Information Act said, on average, 250 calls per month to the non-urgent 101 number were abandoned between June 2013 and March 2014.
Devon and Cornwall Police previously said a survey last year showed 96% of callers were satisfied and 94% of calls were answered within 30 seconds.