Devon councils spend £8m on Freedom of Information requests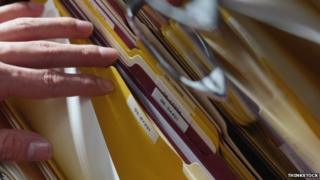 Devon's councils have spent an estimated total of £8m dealing with requests for information since 2008.
Figures obtained by BBC Devon showed that about 100 Freedom of Information (FOI) Act requests were being submitted every day to 11 local authorities in the county.
Of those, 10 had responded to a total of more than 27,000 requests.
Unitary authority Torbay Council has yet to respond to a BBC FOI request about its figures.
The Freedom of Information Act became law in England in 2005 in a bid to make government more open and accessible.
It says any person can request information from a public body and have that information given to them, subject to certain exemptions.
The councils said a national average formula worked out that each FOI request cost an authority £293.
Each request also took staff about seven-and-a-half hours to process, they added.
Among the stranger requests, Mid Devon Council was asked if the council had a policy on micro-chipping children.
Councils have also been asked how much money they spend on psychics, exorcists and spiritual healers and how many roundabouts there are in the area.
But BBC Devon political reporter Jenny Kumah said FOI requests had also helped to unearth "a wealth of stories which have served an important public interest".
"For example, a freedom of information request I did a few months ago revealed that a number of councillors in Devon had been taken to court for failing to pay their council tax," she said.
A campaign group in east Devon was also able to find out that the district council paid £50,000 to landowners Clinton Devon Estates to lift historic covenants which restricted building on Exmouth seafront.
The council had initially refused to reveal this information, but was forced to do so when the campaigners appealed.
The 11 councils in the county include eight district and borough authorities, Devon County Council, and Plymouth and Torbay's unitary councils.