Alex Peguero Sosa: Vigil in Plymouth for murdered teenager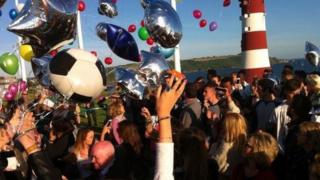 A vigil has been held in Plymouth in memory of a teenager who died following an altercation at a Devon taxi rank.
Alex Peguero Sosa, 17, died in the early hours of Sunday morning after being injured in Kingsbridge.
Balloons were released at the gathering, attended by hundreds of people on The Hoe, organised by the teenager's father, Alexis Peguero Sosa.
He thanked people for coming and said his son would have wanted them to "be happy".
"As a father, I've lost everything I had - my son. It's not easy," he said.
"My son, he wanted happiness. I want to see everyone here be happy, that's the way he would have wanted it."
Max Williams, 17, who knew the teenager when they were both studying at Hartpury College in Gloucestershire, told the BBC the former youth player with Plymouth Argyle was "a really happy guy".
He said: "He was always messing about, he always had a smile on his face, was always dancing and singing in the [accommodation] block."
Mr Williams said seven people who knew the teenager at the college had travelled to Plymouth for the vigil.
He added: "He just meant so much to us as a friend. We wouldn't have missed anything to show our support for him."
Lee Dent, 42, of East Portlemouth, near Salcombe, has been charged with murder.
He was remanded in custody by Exeter Crown Court on Thursday.