Liver transplant family hopes to spread organ message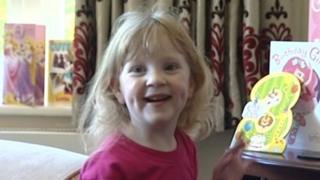 The parents of a girl who was not expected to live more than two weeks say they hope her reaching the age of three will encourage more organ donors.
Lottie Bryon-Edmond, from Torquay, Devon, underwent a liver transplant in 2011 when she was five weeks old.
Doctors warned she could have died at any time before the procedure and she was top of the UK's urgent transplant list for 14 days.
Her parents said her survival was an "absolute miracle".
'Boisterous'
Lottie underwent the liver transplant after developing neonatal haemochromatosis which causes toxic levels of iron to build up in the liver.
Her mother, Julie Bryon-Edmond, said she was now like any other girl of three.
She said: "She's very boisterous and extremely loving, and, to look at her, you'd never know she ever had a problem in her life.
"It's incredible, an absolute miracle, and I think it shows people the difference that can be made with a transplant."
Her father, Chris Bryon-Edmond said: "We're constantly reminded there's another child wanting a similar operation.
"It never leaves and we're never going to stop telling what happened."