Man attempting to sail from Devon to Scotland rescued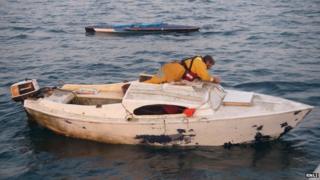 A man who was trying to sail from Devon to Scotland without a mast, charts or radio has been winched to safety after the boat's motor failed.
He was rescued along with his dog in the Bristol Channel, south of Lundy Island, Swansea Coastguard said.
Coastguards said the 17ft (5.2m) boat, which was later recovered, was "one of the least seaworthy" they had encountered "in a good while".
The pair were saved with the help of a helicopter at about 04:00 BST.
'Almost comical'
An old windsurfing rig was serving as a replacement mast, the boat had no lights and its hull was leaking, coastguards said.
The man, from Instow, contacted emergency service by mobile phone. A search helicopter from Chivenor spent two hours searching for him.
Coastguards said the "almost comical" lack of preparation of the "optimistic voyager" had "underlined the importance of ensuring a vessel is seaworthy and properly equipped before taking to the waves".
There were no reports of any injuries to the dog or the sailor, who said he was trying to reach the Hebrides.
The islands are about 400 miles (643km) away from Devon.