Derriford Hospital's breast cancer backlog criticised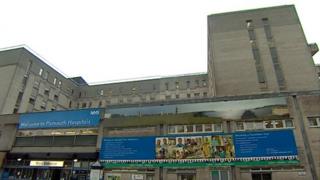 A charity has criticised a backlog of more than 150 women who had to wait more than two weeks to be tested for breast cancer at a Devon hospital.
Plymouth's Derriford Hospital has put on extra clinics to combat the backlog which saw many women waiting up to a month to be seen.
Breakthrough Breast Cancer said there was a national 14-day target hospitals were expected to meet.
The hospital urged patients who had not been seen to contact them.
Details of the backlog, which happened in June, have been published in the Plymouth Hospitals NHS Trust board papers.
Dr Caitlin Palframan, from Breakthrough Breast Cancer, said: "We know most hospitals are meeting this target so it is worrying when one isn't.
"It is reassuring they're putting on extra clinics and they are making efforts to improve."
Dr Palframan said the backlog had to be resolved as quickly as possible.
Kevin Baber, chief operating officer for the trust, said: "Everyone should have been seen now, but if you have been referred and you're worried you haven't been seen in the appropriate timescale then feel free to contact us."
The hospital treats people from across Devon and south-east Cornwall.