Andrew Pimlott death: probe into police Taser use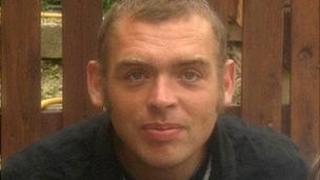 Prosecutors will determine if a police officer is to face criminal charges over using a Taser stun gun on a man who died from severe burns.
Two officers were called to a house in Plymouth in 2013 amid fears that Andrew Pimlott had doused himself with a can of flammable liquid.
The Independent Police Complaints Commission (IPCC) has investigated why a Taser was deployed.
The IPCC has now submitted evidence to the Crown Prosecution Service (CPS).
The IPCC investigation found that an emergency call shortly before 21:00 on 18 April 2013 revealed that Mr Pimlott was in the garden with a can of flammable liquid.
Investigators said it was understood he may have doused himself in the liquid before officers turned up.
Shortly after the police arrived, Mr Pimlott sustained serious burn injuries and an ambulance and fire brigade were called. The IPCC said an officer deployed a Taser during the incident.
Mr Pimlott was taken to Derriford Hospital in Plymouth and transferred to the burns unit at Frenchay Hospital in Bristol. He died in hospital on 23 April from his injuries.
The IPCC has interviewed both officers who attended. A spokesman for Devon and Cornwall Police said: "We have co-operated fully with the independent IPCC investigation and we await the decision of the CPS."