Torbay tourism promotion company may lose council funding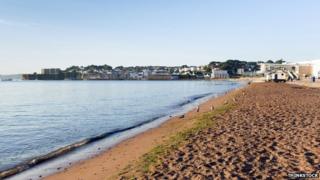 The main organisation that promotes Torbay in Devon as a holiday destination could lose all of its council funding under draft plans.
The elected mayor of Conservative-run Torbay Council Gordon Oliver is proposing ending subsidies to the English Riviera Tourism Company (ERTC).
Tourism businesses said such a move would hit visitor numbers.
Mr Oliver said he could not justify spending cash on a private company when other council services faced cuts.
'Being strangled'
The unitary authority has already made savings of £30m in the last three financial years and needs to make further reductions estimated at more than £14m in 2015-16 after cuts in government grants.
The ERTC receives £415,000 a year. It faces receiving £300,000 in 2015-16 and then no funding after that.
Adam Millward, who owns the Somerville Hotel in Torquay, added: "It should, by any stretch of the imagination, be allowed to run the natural course of its life instead of being strangled."
Mr Oliver said he was "totally behind supporting tourism" but "difficult choices" had to be made.
Speaking to the BBC, he said: "There comes a time when private-sector companies that are supported by public subsidy must be reviewed.
"And hoteliers have privately said to me that they're embarrassed they're having a private subsidy when children's and adults services are cut."
The ERTC said it wanted to "wait to see what reaction we get from tourism businesses" before making further comment.
A consultation is under way into the proposed cuts, which is due to finish on 29 August.