Seven-year will dispute over Bishopsteignton village museum plan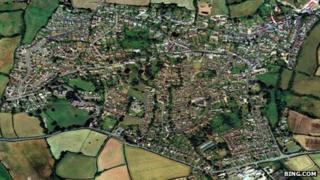 A legacy of more than £1m is still dividing a Devon village seven years after the death of the woman who left the money.
Molly Coombe, who lived in Bishopsteignton near Teignmouth, left the money to be used for a local museum and amenity area.
Her wishes are now being fulfilled with plans for a museum, a doctor's surgery and two new houses.
But some villagers argue they have been ignored during the planning process.
Miss Coombe, who died in 2007, left a £1.5m legacy to the village.
Bob McMahon, one of the unhappy residents, said: "It upsets me greatly that the trustees don't talk to the people immediately affected by the development.
"This trust is for the village and we're effectively stakeholders, and those facts are being ignored."
Another villager, Alan Barker, said the plans were too big, and "not in the spirit of the will".
None of the trustees of the Bishopsteignton Museum Trust were available for interview but they did say they had "consulted widely".
Roger Hunt, from Bishopsteignton parish council, said: "The overwhelming majority of the village support this.
"The museum trustees have done a lot of pre-planning work to make sure what goes in here is suitable."
Mr Hunt said he believed the plans were a "neat fit" in order to "meet the requirement for a surgery and [Miss Coombe's] requirements for a museum."
Teignbridge District Council will discuss the plans in October.