Inpatient services at two hospitals 'temporarily closing'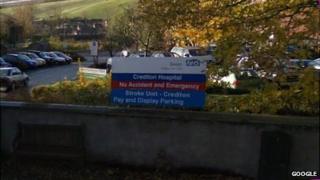 Inpatient services are to be temporarily closed at two Devon hospitals, health bosses say.
The Northern Devon Healthcare NHS Trust said the closures at Crediton Community Hospital and Tyrrell Community Hospital, Ilfracombe, from November were because of staffing issues.
The trust said there was "no option" because of a shortage of nurses.
It added that the "planned and temporary closure" would "minimise the impact on patients and staff."
Trust chief executive Dr Alison Diamond said health bosses had "experienced significant difficulties in recruiting registered nurses to the inpatient services at Crediton and Ilfracombe" over the past six months.
She said: "There are ongoing issues filling the nursing rota and we are often on the cusp of not being able to safely staff both hospitals - and this cannot be sustained heading into the winter when pressure increases."
The trust said it did not know when services would be reopened because it was unknown how long any recruitment process would take.
It added that all current inpatients at both hospitals would be "discharged in a safe and planned way to their home or transferred to another care setting".
Tyrrell Hospital has three inpatient wards.