Storm repair truck swamped by sea at Dawlish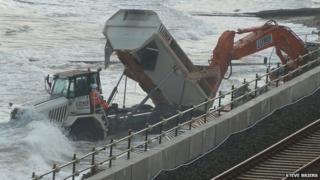 A 35-tonne truck has been abandoned after being swamped by the sea in Devon.
It was being used to rebuild a coastal walkway and sea wall at Dawlish that had been damaged by winter storms.
Network Rail said no-one was injured and it was investigating how the truck became "overwhelmed by the incoming tide".
It added the vehicle would be removed from the beach in the next few days and believed it had not been ruined.
The path and railway line in Dawlish were severely damaged by massive waves which left the south-west of England without a rail connection for two months.
The walkway is the final section of footpath between Dawlish Warren and Teignmouth to be repaired following the damage. It is expected to be completed in 2015.